What is GoPrint?
GoPrint is an application that links a printer to your GoSweetSpot account. It allows labels to be sent to the printer automatically rather than the need to open the file and manually send the job to the printer yourself.

GoPrint is now available on Windows and MacOS. Instructions can be found below for both operating systems.


Difference between GoPrint and Print Agent:
The main difference between GoPrint and Print Agent is that GoPrint doesn't require communication with our server to function. As a result:
GoPrint is less reliant on a passive network connection, resulting in fewer connection issues.
GoPrint will only be limited by the speed of your internet so you may see print speed improvements.
GoPrint is not connected to our systems in real-time, as such it uses less memory and other resources on your local machine
GoPrint is intended to be used with a local printer. If you have multiple computers and one printer (not accessible via a network), GoPrint is not for you. If you need clarity around this, please contact us on 09 600 52 50 or support@gosweetspot.com

Installation & GSS Setup
Step 1. Installing & Setting Up Application
GoPrint for Windows can be downloaded here.
Once downloaded, run the Setup.exe file to install the application. Note, there is no install Wizard that pops up, however you may notice a small printer icon appear in your icon tray as shown below: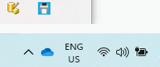 If GoPrint does not open automatically, click on the above icon and you will be prompted with a screen where you can select a download folder. Click browse and select the folder your web browser downloads files to (this will normally just be the 'Downloads' folder).
When you print a label on GoSweetSpot, that label will downloaded and GoPrint will scan your selected folder for the label and send it to the printer for printing. Once printed, the downloaded file will be removed from you downloads folder.
Next, ensure the correct label printer is selected and once down click Apply Changes.
Step 2. Link GoSweetSpot User
The final step is to set your GSS user Label Printer preferences.
Navigate to your GSS platform --> Administration --> Preferences and Settings and select GoPrint - PRN Download --> Click Save
Step 3. Print a Label
You are now able to print a label on GSS. When you print, you will notice a PRN file download. This will download to your selected folder and GoPrint will read this file and print the attached label. You don't need to worry about clearing up these files from your PC as GoPrint will automatically remove them once printed.